Back to all posts
Posted on
2023-2024 New Student Registration (Kindergarten to Gr 12) - Now Open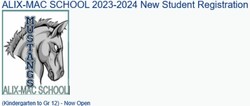 New Student Registration for Kindergarten to Grade 12 for the

2023-2024 school year is now open for new students.  
To register your child, please visit the Alix-MAC Website, click on "Menu" button on the top right hand side, then on the "Registration and Busing" link - then select "New Student Registration".  You will need to "create a new account", and REMEMBER to write down your username and password as you will require this to log in to your parent portal in the future. 
If you already have a parent portal account and wish to add a new student to your account, log in to your account, click on "School Engage", then "Add Student" and complete the new student registration form.  
If you are a rural student, please remember to register for busing through your registration form.  
School Engage How to Information
**PLEASE ENSURE YOU ARE REGISTERING FOR THE CORRECT SCHOOL YEAR -  2023-2024 **
Please Note:  A copy of original birth certificate and any other pertinent legal documentation, such as custody or guardianship orders, MUST accompany registration.
Age Requirement:  Kindergarten students must be 5 years of age on or before December 31, 2023. (Wolf Creek Public Schools Policy #300)
We look forward to meeting new children and families to Alix-MAC School in the upcoming year.  
Questions?  If you have any questions or need assistance with the registration process, please contact the school office and 403-747-2778 and ask for Mrs. Lacroix. 
The school email is alix@wolfcreek.ab.ca